About Byron Lawrence
I am an accomplished airbrush artist in the automotive custom paint industry, based out of Anaheim, California. I have done airbrush artwork for various custom paint shops and individuals throughout Southern California for more than 20 years. I specialize in painting high-quality custom airbrush art on all kinds of motorcycles.
Among my many accomplishments, I was the main artist for Rock & Roll Custom Paintworks for many years. I have custom painted hundreds of motorcycles over the years, and have also done numerous custom paint jobs on items of all description. I can create a stunning custom design for practically anything. Some of the projects commissioned to me have included:Cars and trucks
Motorcycle helmets
Sandcars, quads, and trikes
Golf carts
Trailers and big rigs
Guitars
Leather jackets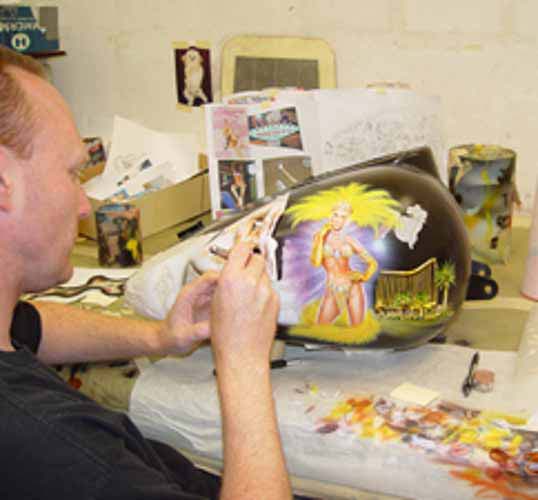 I work with knowledgeable, experienced people throughout the industry to produce stunning custom paint jobs. I can add any amount of airbrush art to your bike, vehicle, helmet, etc. I work with both individuals and custom paint and body shops.
My work spans the spectrum, from simple to extreme and everything in between. I welcome the opportunity to create my next great custom design for you. I can paint anything from simple logos and graphics to extreme, full-on mural work. I also accept commissions for fine art pieces on canvas, illustration boards, and aluminum panels. Bring me your most challenging idea and watch it become a tangible reality.
Contact me today to discuss your project and receive a free, no-obligation quote.